Since December 2017, the holidays in Downtown Raleigh have never been the same…
We are pleased to host Miracle at The Haymaker every December to add to your Christmas cheer! Each year, you can expect lots of nostalgic holiday décor (think upside-down Christmas trees, tinsel, stockings, tons of wrapping paper and more) as well as a unique signature cocktail menu and fun events.
Today, Haymaker bar manager Josh Gagne and owner Gaurav "G" Patel want to take you back to 2017, the faithful year that everything began and give you a behind-the-scenes look at what goes into making Miracle.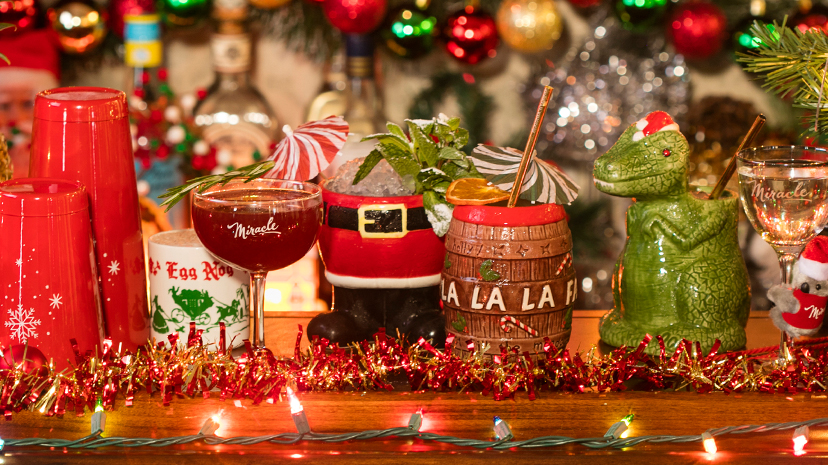 Not sure what Miracle is? Learn more about their pop-up events at MiraclePopUp.com.
Where it All Began…
The Haymaker opened in 2016 and when we had just six months under our belt, a frequent bar visitor told us about a Miracle event they had been to in Charleston, South Carolina, at a bar called The Gin Joint. He said Haymaker would be the perfect spot to host it in Raleigh.
G and I had tossed around the idea of hosting Miracle but we thought it was too soon to take this on so we waited to reach out to them until the following year." – Josh
In 2017, Miracle was only taking place at about 15 locations in the United States and Haymaker was the first bar that had contacted them from Raleigh. One thing Miracle wanted to make sure of was that each location they worked with had the ability and understanding of how to do gourmet cocktails in a high volume sense and to a specific quality.
Our team had to explain to Miracle what Haymaker was and what our vision of Miralce would be. We had to lay out what our decoration plans were and logistically how our staff would host this event. Miracle had a standard of what they were looking for to build their own brand." – Josh
Lucky for us, Miracle thought we were the perfect fit so our team started the planning early in the year of 2017. There are checkmarks are staff had to complete throughout the year including paperwork, deposits, and figuring out how much product our bar was going to need during this time.
Miracle gives you a full manual or business plan that details how they expect everything should run including information on how to treat guests, how to manage long lines at the door, what kind of music to play, what the atmosphere should be like, suggested decor, and more.
From there, we also received a cookbook with every ingredient that was required to make each of the seasonal cocktails.
One of the comments we get the most is people expect that Miracle, as a company, comes in and does everything for us. They do a lot of work ahead of time and they provide us with a manual of how they want things to run but the acutal labor and man hours is completely Haymaker's responsibility." – Josh
Another question we get asked a lot is "Do things stay the same every year?"
Music kind of stays the same year to year. When new music comes out, we play it, but it is mostly the standard top Christmas hits. In fact, we listen to Mariah Carey 45 times a day. Lots of Christmas music is slow and not necessarily the vibe we are going for so our DJ tries to avoid the slow songs which limits the songs we have to choose from.

As far as decor, that is up to us to change it how we see fit. G and I have always felt the need to build on it year after year. Each year, you are going to see trees and lights but expect something new and flashy as well.

The same can be said for the cocktail program. Miracle has figured out the drinks that do well and those mostly stay the same. The cocktails that do not do as well change from year to year. Every holiday season, Miracle also comes out with new glassware which is fun for the guests. The team at Miracle does a great job of refreshing the menu but keeping the top favorites there such as the Snowball Old Fashioned. Everyone wants to drink an old fashioned with a snowball in it." – Josh
We start planning for Haymaker on January 1 or as G says, "the second it is over." As soon as our bartenders pour their last holiday cocktail, our team starts talking about how to make it better. We start the in-depth planning around August or September.
Once we hit October, the planning really begins. For instance, we start to think about our liquor order. During Miracle, the amount of alcohol we need quadruples. We need to space out buying it so we are not spending so much money all at once.
As we do things year over year, Josh has taken the reigns on Miracle and I trust him to make the right decisions. My goal is to know what went right, what went wrong, what needs to be tweaked, removed, or added. Josh and I have these conversations and look at how we can make things better. Miracle is the largest campaign we do and it brings in a substantial amount of our revenue. Within those 30 days, we do 10 to 12 events. Strategically planning those events out is very time consuming. We look at the overall strategy and financing so we can make it better.

At Haymaker, we had lots of success hosting karaoke nights before Miracle so we decided to try it out during our holiday time and it was a hit! My priority is to constantly elevate our Miracle experience and make it bigger and bigger." – G
Managing the Staff During Miracle
One of the most challenging things we experience during Miracle is managing our staff.
I really have to make sure I am managing their mental state because although a lot of people are jumping over to the cocktail side of bartending, they are doing it for the connection of people and talking to people about spirits and that kind of goes away because of how big the event is.

Despite it being Christmas, you are bringing in a lot of people who do not frequent your place and do not drink cocktails often, so it is managing new clientele. Our staff has to step outside of the box and become more like volume bartenders. At their roots, the are still focused on providing a quality experience but it is tough given the sheer size of this event." – Josh
Out leadership team tries to keep people healthy, grounded, and focused because each year the month seems longer.
Throughout a shift, I am checking in on people to see how they are doing. You go into almost a robotic state where you don't stop making drinks for sometimes eight hours. I have to step in and manage their health. I find myself constantly saying, "you need to go take a break." Mentally and physically, you just cannot do it nonstop. You are making a couple hundred drinks a night. Miracle is such a learning game for us. Every year, we have to make adjustments, almost daily, on how we can make things easier on our staff without making it less of an experience for our guests. I just try to keep the staff focused on what they are strongest at which is making drinks." – Josh
We want to make sure we always provide an amazing experience for our guests.
People are coming for a miracle experience. I am doing all I can to keep our team in a positive morale. Manual labor takes a toll on your mental ability to be happy so when our bartenders are cranking out hours and hours of non stop cocktails, I have to keep check on them.

Controlling guest experiences during this time. Becomes a very conscious decision for us. When you see 100 people outside your door, they are thirsty. I want to get them in as quick as I can but if we let them all in everyone inside and the bartenders are going to be mad. If we keep them outside too long, they are going to be mad. It is quite a balancing act." – G
Year Two
In our second year, our main focus was to see how big we could make Miracle and we ended up walking away from the month with a lot of negative reviews and experiences.
Year Three
The third year, we were trying to figure out how to make it a better experience for people. Not just manage the staff but manage the room from an experience perspective.
How can we engage with the people who are waiting for 30 minutes outside? How many people are in the building? How are we facilitating the people that are waiting in line? How is the music? Are we turning it up to loud where it is too much of a party atmosphere or is it too low? We focused on the guest experince a lot more in year three and got a lot less negative reviews. This is defintiely our number one priority going forward. It is all about the guests coming in and how they enjoy the event." – Josh
Advice for a First-Time Guest From Josh and G
Be patient, there is going to be a line. You don't see a lot of lines in Raleigh. The question I get asked the most is "why is there a line?" We can only have so many people in the building before it becomes too crowded. Anytime of the day you try to come in, even if it is 4:30 p.m., you can expect to stand in line. We will make sure you have a good experience when you get in. The drinks are very festive and fun, there is not a single bad one, so it is worth the wait." – Josh
"We tell guests to come to Miracle multiple times if they can. Depending on which day you come, it is going to be different but, no matter what, it is going to be busy. I love karaoke nights becuase they are very relaxed and festive." – G
Pro Tip From G
If you are coming in a large group – give us a heads up. We consider a large group, anything more than six people. Most of the time we are operating under a one in one out policy. We need to know a few days in advance if you are coming with multiple people so we can do everything we can to get your whole party inside the building at the same time." – G
Josh's Favorite Cocktail From 2019
It would have to be the "Yippe Kai Yay Mother Fuc***" because I like saying it. Barman Dave at Haymaker always makes people say it out loud. The whole pop up is slightly dirty and not meant for kids. There is a party feel to it. There are pictures of drunk Santa and it really turns Christmas on its head. I encourage people to let loose and have fun with it. Dress up! We love seeing people in sweaters. The staff is all talking about peoples sweaters and what their favorties are." – Josh
What Do You Want to See at Miracle
You have heard our story on how this pop-up event became the highlight of our year, now we want to know how we can make it better in 2020. Please fill out the form below.